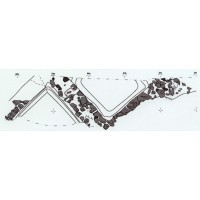 Estação Arqueológica do Monte Molião I (Lagos, Portugal). Estação Arqueológica do Monte Molião I (Lagos)
Fishing and fish-canning industry have been one of the mainstays of the economy of the Ancient World. Research on the main archaeological evidence of such activity, the Roman salting factories, its origin goes back to the sixties of the last century, being today a line of relevant research from various Spanish research teams.
The Atlantic-Mediterranean Network of Excellence on Ancient Fishing Heritage (RAMPPA) aims to integrate such research into a common aggregation optimizing previous results and creating an international impact. For it six research groups led by five Spanish institutions in three different autonomous communities have been invited to participate (Universities of Cadiz, Malaga and Seville, Casa de Velázquez and the Catalan Institute of Classical Archaeology), who have extensive and long career on the exploitation of marine resources in antiquity and crafts subsidiaries, as with the manufacture of amphorae and potters workshops related to their manufacture. Additionally, to create an international framework, it has counted with specialists from France, Portugal and Morocco, leaders in the field.
The object is to optimize previous scientific research, providing them with an international dimension and allowing its global accessibility through a Virtual Laboratory Network. In addition, a bilingual Atlas of Atlantic-Mediterranean cetariae (ACAM) has been created, which seeks to become an instrument for disseminating the results of these working groups through its electronic and printed versions with two volumes with high impact contents (cetariae in the Western Mediterranean and corpora of roman salting pans, vivaria –fish breeding sites- and purple dye ateliers-), an instrument that been demanded by the scientific community for years.